Terrain Tamer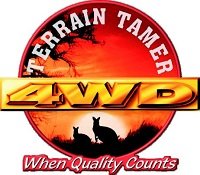 "Terrain Tamer, the leader in 4WD original replacement parts. With a history dating back to 1969 we continue to deliver on our promise of quality, research and design to give you parts that are tested in the toughest Australian outback environments. LOOKING BACK you'd find an old Thornycroft vehicle being dismantled in 1936 and its rear axles and transmission being fitted to a Leyland Badger. Why? Because this modification allowed the now famous mailman 'Tom Kruse' to complete the world's most remote mail run through Outback Australia for the next 25 years.
Pioneers like Tom, who had to rely on vehicles tough enough to traverse our rugged land, opened up our country. Legends like Bill King from Australian Adventure Tours (AAT Kings), one of our earliest customers, who built his business on the back of the Bedford 4WDs that we supplied him. Since the 1960's, our company has learnt from these pioneers – sometimes the hard way. While every vehicle has its strengths, they all have weaknesses that can stop them in their tracks without a care for location.
We've learnt what works well and how we can strengthen a vehicle to ensure safe passage through our dangerous yet beautiful landscape. It all began with Bedfords and Leylands and continued through LandCruisers and Patrols to where we are today with a quickly spreading market of 4WD Utilities that are themselves on their own pioneering journey.
Over the years, the knowledge we have shared with our customers has manifested itself into a unique range of over 40,000 4WD parts. They are the culmination of 50 years of engineering, testing and manufacture that has allowed us to assist other regions of the world, including Africa."
---